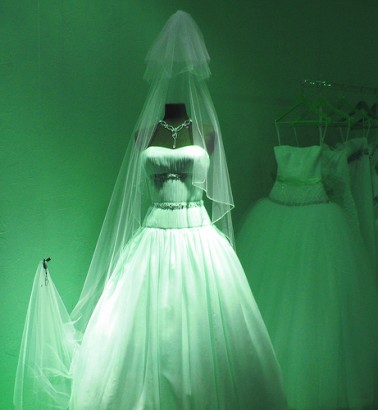 To complete the look for your special day you need to choose your perfect veil so it looks just right with your wedding dress.
Chapel Veil
If your dress is figure hugging (slimmer design of gown) balance your dress with a chapel veil.
Some Brides shy away from the idea of this type of veil as the thought of carrying a long veil all day isn't appealing.  But there is a solution!
Ask your designer to customise your veil by applying several detachable layers which then can be removed once the ceremony and photos are finished.
Rule of thumb: Chapel veil should be no longer than the train of the dress.
A-line wedding dress
If your dress is A-line and if you're after a floaty, romantic look the chapel veil will achieve this but there are two rules -
1) the veil length is fingertip (arms stretched down and veil extends to fingertips) or
2) three-quarter length to suit the proportion of the dress
Blusher Veil
If your dress is a full skirt then balance the proportions with a short, puffy Blusher Veil. And with a full length chapel veil balance this with a fuller top layer.
Hair up or down
Your hairstyle should reflect the design of your gown and then the veil to be positioned accordingly.
If your hair is down, place your veil forward so there's sufficient hair to prevent the veil slipping free.
Swept up, the veil can be placed further back on the head. This works well for a three-quarter or fingertip veil.

Edge for the best
The fabric of your wedding dress will determine which trim or edging to choose for your veil. It's all about creating a balance between gown and veil.
Here's a  selection -
Satin Gown – Satin ribbon edging or satin binding.
Chiffon Gown – Fine edging such as satin binding or stitched edge.
Beaded Gown – Incorporate the beading into the veil or just the edging.
–
Article contributed by Lorri C.